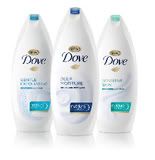 I never knew how bad some body washes and soaps can be for your skin. All regular body washes cause or contribute to dry skin damage. Current body washes actually damage proteins and lipids in the skin's outer layer which can lead to the loss of moisture. When skin lacks proper moisture, dryness, tightness and irritation/redness can occur. Some existing body wash are focused on minimizing protein damage and alleviating visual symptoms of moisture loss by adding heavy moisturizing ingredients that sit on top of skin. While these additives help mask dry skin damage, they do not address the deeper problem of lipid damage.
The new Dove Body Wash collection contains NutriumMoisture™ technology that cares for surface skin ten layers deep. Unlike other body washes, this first-of-its-kind body wash technology takes a dual approach to healthy, nourished skin by preserving both proteins and lipids during cleansing.
Only
Dove
contains
NutriumMoisture™
, a breakthrough formula of soybean oil and natural lipids.
I recently was contacted by
Dove
to review their new line of body washes with
NutriumMoisture
. I received a bottle each of their new
Dove Bodywashes with NutriumMoisture
for gentle exfoliating, deep moisture, and sensitive skin. I would have to say that my favorite is the gentle exfoliating. Something about those little exfoliating moisture beads makes me feel cleaner. My skin is always so dry and flaky but after using the
Dove
NutriumMoisture gentle exfoliating body wash
my skin feels soft and revived!
Dove NutriumMoisture
body washes are available at your local drug stores, chain retailer, and grocery stores for around $5 a bottle. I encourage you to try the New Dove and see which
NutriumMoisture
body wash is your favorite.